WELCOME
TALKING HEADS PR (THPR) is one of leading consumer PR agencies with international clients portfolio.
Our mission is to create nad manage professional business communication that support business.
We are proud of our success stories, like:
Managing the full communication strategy for DSGi (Dixons) in Central Europe. DSGi is the biggest european electricals retailer. Our goal was to support the business development, creating value for business partners, developers and clients. Our PR campaign was awared as one of the most succesfull in CEE region.
Creating and managing the communications strategy for Franklin Templeton Investments, the biggest player in global investing. Our job is to deliver the best publicty in the financial media and we do it.
We have much more stories to tell....
If you have any questions please send us email or call:
Artur Adamowicz / Member of the Management Board
+48 512 199 556 / artur.adamowicz@thpr.pl
Wspierane przez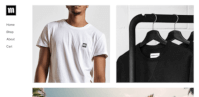 Stwórz własną unikalną stronę internetową przy użyciu konfigurowalnych szablonów.